Our Veterinary Team
Katie Engnell, Practice Manager
Katie joined the team in January of 2016. She has degrees in Equine Science and is taking classes to become a CVT. Her favorite part of working in veterinary medicine is sharing knowledge with clients in terms they understand to help ease their minds. Katie lives in Andover, MN and has an English Pointer named Quincy and a Havanese mix named Mulligan. Her hobbies include, hunting, fishing, camping and horseback riding.
Alyssa Huss, CSR
Alyssa graduated from the University of Minnesota before joining the Gehrman Animal Hospital team in 2014. She has loved being able to connect with clients and their pets. Alyssa also work as a flight attendant for Delta Air Lines and a scheduler for Corepower Yoga. When she is not getting her fill of puppy kisses, Alyssa enjoys traveling or attending a yoga class, as well as spending time with her family including her five (soon to be 6!) nieces and nephews.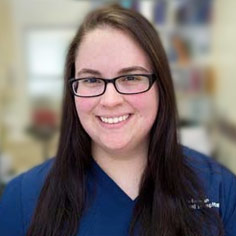 Kerri Kujawa, CSR
Kerri joined the Gehrman team in March of 2018 as a CSR. Kerri moved to Minnesota in 2017 from Michigan where she attended the University of Michigan and graduated with a bachelor's degree in Health Care Administration. Kerri started in several ophthalmology and optometry roles before deciding to combine her healthcare knowledge and love of animals by jumping into the veterinary field. In her free time, Kerri enjoys reading, watching movies and heading back to Michigan to visit her family, friends and farm. Her favorite part about working at Gehrman Animal Hospital is getting to know the different clients and their wonderful pets!
Nina Warmboe, CSR
Nina was a member of our GAH staff for 10 years before deciding to try joining her husband in retirement. After 4 years, she missed her co-workers, GAH clients and their pets so much that she had to return! We are so happy to have her on our team again and sharing in the journey of people and their beloved pets. Nina feels fortunate to have her three grown children (and one daughter-in-law) all living nearby in the metro area. In addition to time with family and cuddling with her dog, Tika and grand-dog, Lily Bee, her enthusiasms include long-distance bicycling, theater, road trips, and a gourmet dinner group.