In the News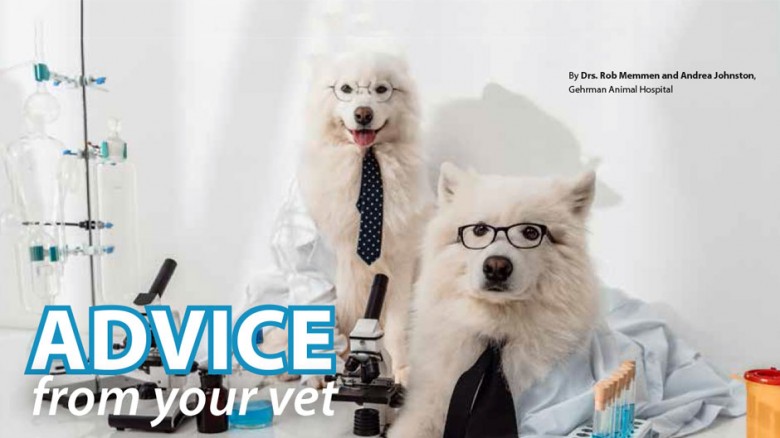 2018-12-01
By Drs. Rob Memmen and Andrea Johnston, Gehrman Animal Hospital
Antibiotic resistance is a hot topic in human medicine and is a current issue that doctors are battling in hospitals, nursing homes, and clinics. Antibiotic use in animals can also contribute to the emergence of antimicrobial resistance in bacteria that may be transferred to humans, thereby reducing the effectiveness of antimicrobial drugs for treating human disease.
As veterinarians, we use antibiotics for common illnesses, such as skin infections, urinary tract infections, and respiratory infections. Judicious use of antibiotics is an integral part of good veterinary practice. It is important as veterinarians to use practices aimed at maximizing the most effective therapy while minimizing bacteria resistance. Food animal medicine (cows, pigs, chickens) and antibiotic use is a current issue that is being addressed by the FDA. Historically antibiotics in food animal medicine have been used much too frequently. There are current studies that have also identified that companion animals (cats and dogs) can transfer resistant bacteria to people and vice versa. The first step in responsible antibiotic use is it to confirm that the infection we are treating is bacterial in nature.
Many illnesses presented to us by dogs and cats may be viral, and antibiotics may not be effective in treating the specific infection. It is strongly recommended that culturing infections can help identify a bacterial infection, as well as direct the best antibiotic therapy for that infection. A culture is a test to find bacteria that can cause an infection, by specifically swabbing the tissue or body fluid of concern. Once a culture is performed and bacteria is identified, a sensitivity is performed. A sensitivity test checks to see what kind of antibiotic will work best to treat the illness or infection. A culture and sensitivity test is never a wrong decision to ensure we are treating an actual bacterial infection with the appropriate antibiotic.

Antibiotic resistance is a public health issue that cannot be ignored, and veterinarians need to be equally as diligent and cautious as human doctors in prescribing appropriate antibiotics. It is a global task to prevent resistant infections that can lead to severe and fatal illnesses not only in people but in pets. We all need to do our part by minimizing further resistance in our communities.